British 'Cartel' Traders Acquitted of Rigging Currency Market
By Bob Van Voris, Lananh Nguyen, and Chris Dolmetsch
Bloomberg News
Friday, October 26, 2018
Three British traders were acquitted of using an online chatroom to fix prices in the $5.1 trillion-a-day foreign exchange market, a blow to global efforts to police the industry.
A federal jury in New York rejected the U.S. claim that Richard Usher, Rohan Ramchandani and Christopher Ashton, a group known as "The Cartel," rigged the market from 2007 to 2013 by coordinating trades and manipulating prices on the spot exchange rate for euros and U.S. dollars. They wept in relief as the verdict was handed down Friday in Manhattan federal court, after the jury deliberated for about half a day.
... Dispatch continues below ...
---
ADVERTISEMENT
Do You Own Gold in the Safest Way?
Do you own gold via an ETF, a digital gold provider, or another form of pooled gold?
Did you know that only a tiny fraction of their gold holdings are effectively available for delivery in coin or bar format at any one time?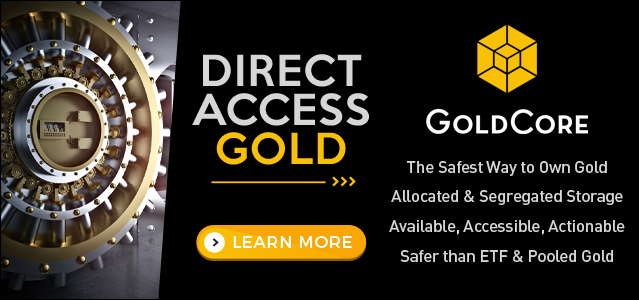 [1]
Direct Access Gold reduces counterparty risk and systemic risk and ensures liquidity, competitive pricing, and outright ownership of investors' gold.
Direct Access Gold protects our clients against certain systemic risks, including cyberwar involving electrical grid & internet outages.
In the event of a technological failure, digital gold or exchange-traded fund providers may become uncontactable and you may not be able to sell or access your gold.
Direct Access Gold gives gold owners the ability, in the event of certain geopolitical, digital, and systemic events, to take delivery or move their gold to a location of their choice.
For key information and a video about Direct Access Gold, please visit:
https://info.goldcore.com/direct-access-gold [1]

---
"This is a signal to all foreign exchange traders that they can go back to business as usual," Mayra Rodriguez Valladares, a former foreign-exchange analyst for the New York Fed, said of the acquittal. "Not holding traders who manipulate rates accountable devalues the integrity of the foreign exchange market."
Valladares, who also conducts training for bankers and regulators through her consulting firm MRV Associates Inc., predicted the verdict will be bad news for asset managers on the buy side -- such as pension funds and insurance companies -- who stand to lose money on products tied to the FX market because they lack the minute-to-minute information banks have. And it may lead to increased pressure on regulators.
"The FX code is not going to be seen as having any teeth," she said, referring to the FX Global Code, a set of guidelines aimed at raising standards.
The men faced as long as 10 years in prison had they been convicted.
Jurors weren't convinced that the traders' conduct amounted to a crime.
"It was a microscope that was placed on something that probably was happening all the time," the jury foreman, Lucien Samaha, 60, an artist in New York City, said after the verdict. "At the end, we found there was not enough evidence."
Four banks, JPMorgan Chase & Co., Citigroup Inc., Royal Bank of Scotland Group, and Barclays, previously pleaded guilty to manipulating currency markets in 2015 and agreed to pay $2.5 billion in fines. UBS Group AG received immunity from antitrust charges for being the first institution to report misconduct in the FX market, although it pleaded guilty to a related fraud and paid a $203 million penalty. More than a dozen financial institutions have paid about $11.8 billion in fines and penalties globally, with another $2.3 billion spent to compensate customers and investors. ...
... For the remainder of the report:
https://www.bloomberg.com/news/articles/2018-10-26/jury-rejects-charge-t... [2]

* * *
Join GATA here:
New Orleans Investment Conference
Hilton New Orleans Riverside Hotel
Thursday-Sunday, November 1-4, 2018
http://neworleansconference.com/wp-content/uploads/2018/07/NOIC_2018_Pow... [3]
* * *
Help keep GATA going
GATA is a civil rights and educational organization based in the United States and tax-exempt under the U.S. Internal Revenue Code. Its e-mail dispatches are free, and you can subscribe at:
To contribute to GATA, please visit: