By Kevin Yao
Reuters
Friday, October 26, 2018
BEIJING -- China is likely to use its vast currency reserves to stop any precipitous fall through the psychologically important level of 7 yuan per dollar as it could risk triggering speculation and heavy capital outflows, policy insiders said.
On Friday the yuan hit a fresh 22-month low of 6.9647 against the dollar, and traders expected that the tightly managed, partially convertible currency would soon be testing 7 per dollar, a level unseen since the global financial crisis a decade ago.
... Dispatch continues below ...
---
ADVERTISEMENT
Do You Own Gold in the Safest Way?
Do you own gold via an ETF, a digital gold provider, or another form of pooled gold?
Did you know that only a tiny fraction of their gold holdings are effectively available for delivery in coin or bar format at any one time?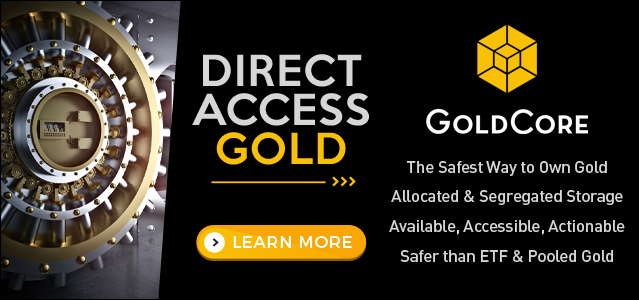 [1]
Direct Access Gold reduces counterparty risk and systemic risk and ensures liquidity, competitive pricing, and outright ownership of investors' gold.
Direct Access Gold protects our clients against certain systemic risks, including cyberwar involving electrical grid & internet outages.
In the event of a technological failure, digital gold or exchange-traded fund providers may become uncontactable and you may not be able to sell or access your gold.
Direct Access Gold gives gold owners the ability, in the event of certain geopolitical, digital, and systemic events, to take delivery or move their gold to a location of their choice.
For key information and a video about Direct Access Gold, please visit:
https://info.goldcore.com/direct-access-gold [1]
---
The yuan has lost over 6 percent versus the dollar so far this year, partly reflecting its slowing economy and pressure on exports due to an ongoing tariff war with the United States.
Two sources involved in internal policy discussions, but who are not the final decision-makers, said that a defense of the yuan at 7 per dollar would be mounted to show investors that the authorities wouldn't allow a runaway market. ...
... For the remainder of the report:
https://www.reuters.com/article/us-china-economy-yuan-exclusive/exclusiv... [2]

* * *
Join GATA here:
New Orleans Investment Conference
Hilton New Orleans Riverside Hotel
Thursday-Sunday, November 1-4, 2018
http://neworleansconference.com/wp-content/uploads/2018/07/NOIC_2018_Pow... [3]
* * *
Help keep GATA going
GATA is a civil rights and educational organization based in the United States and tax-exempt under the U.S. Internal Revenue Code. Its e-mail dispatches are free, and you can subscribe at:
To contribute to GATA, please visit: